5 - 7 pm | Ruffin Gallery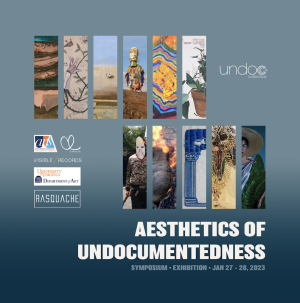 A migrant is perpetually unfinished.
Instead of a living embodiment of one's place of origin,
a person is a work of art constantly in revision.[4]
Undocumented immigrants have the supernatural ability to live a life beyond linear time. For the individuals in the undoc+ spectrum, today is withstood with hope that tomorrow will be a return to yesterday. Leaving the comfort of home toward the unknown in the hope of a better future often means leaving our ancestors and children behind, forgetting our memories, constant policing by others, and invisibilizing fragments of self just to survive. As per Audre Lorde, in a society where good is defined in terms of profit rather than in terms of human need, there must always be some group of people who, through systematized oppression, can be made to feel surplus and occupy the place of the dehumanized inferior.[5] Across the globe the members of the undoc+ community are tasked to embody said surplus. In the words of Federico Cuatlacuatl, we need to build a future where we see ourselves thriving beyond surviving; this future must become blurred with the past and the present because we exist in multiple temporalities simultaneously.[6]
Exhibition curated by Erika Hirugami