Along with our Ruffin Gallery exhibitions during the school year, the Studio Department has a very active visiting artist program. The faculty, by virtue of their connections in the national and international art world, are able to draw important and diverse contemporary artists to the University from around the world. Throughout the academic year, visiting artists in all media offer lectures, workshops, and studio visits.
The Ruffin Distinguished Artist-in-Residence Program, established in 2012 by the Peter B. and Adeline W. Ruffin Foundation, is designed to bring artists of international stature to the University on a rotating basis. Each artist selected offers a series of unique workshops or programs, gives a public lecture and has an exhibit or screening of his or her work for the university community. In addition, the Ruffin Artist in Residence offers a variety of opportunities for personal interaction with distinguished majors in the Studio Art program, including seminars and critiques. Past residents include Nick Cave, Mark Dion, La Pocha Nostra, Marissa Williamson, among many other renowned artists!
The Studio Art department was thrilled to host Calista Lyon as the Ruffin Distinguished Artist-in-Residence for 2021 - 2022. Calista also served as an Assistant Professor of New Media.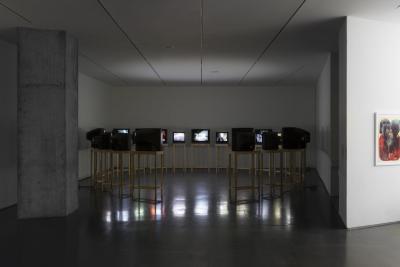 Calista Lyon is an Australian artist and Ruffin Assistant Professor of New Media at the University of Virginia. She lives and works between Charlottesville, Virginia—the ancestral and contemporary territory of the Monacan Indian Nation and Columbus, Ohio—the ancestral and contemporary territory of the Shawnee, Potawatomi, Delaware, Miami, Peoria, Seneca, Wyandotte, Ojibwe and Cherokee peoples.
Lyon works in photography's expanded field utilizing research and image-based strategies to explore dynamics of memory and resistance in the wake of eco-social collapse. She employs multiple modes of knowledge production, drawing from the fields of ethnography and archival practices to create installations, performances and community engaged works that make visible the complexity of ecological destruction, communicate the internalized experience of "ecological grief" and offer reparative forms of existence through artistic inquiry.
In previous works, she has amplified the voices of Ohio's threatened species, sharing the sound portrait of the Silver-Haired Bat and the Massasauga Rattlesnake. Through site-specific projections she shared the individual wave of the people of Green River, Utah. Using the photographic portrait as an invitation, she prompted her rural farming community to join in a conversation. Most recently, she is sharing a story about the historical and contemporary structures of settler power effecting a local endangered orchid in Australia.
Calista Lyon has been supported by the Australia Council for the Arts, National Association for the Visual Arts, Foundation for Contemporary Arts, The Regional Art Fund, and the Ohio Arts Council, among others. She has completed residencies and fellowships at Oak Spring Garden Foundation, Virginia; Epicenter, Utah; The Ohio State University, Ohio; Center for the Art of Performance at UCLA, California, and she is currently the Ruffin Distinguished Artist-in-Residence at The University of Virginia. Her work has been exhibited at the Centre for Contemporary Photography, Australia; Luckman Gallery, California; Barry Art Museum, Virginia; Sydney Museum, Australia; Murray Art Museum Albury, Australia; Beeler Gallery, Ohio and Automat Collective, Pennsylvania, among others.
---
ARTIST-IN-RESIDENCE OPPORTUNITY
We are not accepting applications at this time. If you have any questions, please contact Emily Daniel
Expectation
The Ruffin Distinguished Artist-in-Residence is invited to create new work and interact with the University of Virginia community. Opportunities during the residency include offering unique workshops, a public lecture(s), and research support funding. Additionally, the residency involves an exhibition or screening in the Ruffin Gallery (950 SF) of their work for the university community (this work does not have to be produced during this time). The resident is invited to interact with students and faculty through classes, seminars and critiques.
Program awards
1. Stipend
2. Exhibition support funding
3. Lodging
4. Travel expenses to and from Charlottesville (start and end of residency)
Type of Application
The School encourages applications from individuals as well as from collaborative teams. However, please be advised that the resources listed above are finite. If teams apply, the expectation is that the program awards will be shared between its members.
Submitted Proposal Requirements:
1. Complete Application
include Web URL/Portfolio, Additional Cover Letter, Resume/CV
2. Website/Portfolio
Any work you want the committee to consider should be open access/URL.
Enter a URL for your website.
3. Additional Information/Cover Letter and Resume/ C.V.
Please describe your interest in pursuing this residency in particular. Discuss your
experience working with students and engaging in community or public settings.
There are possibilities for additional programming and activities to extend beyond
the gallery space. Describe any such plans or opportunities.
4. References
Please provide the names and contact information of three references that can
vouch for the applicant's creativity, collaborative skills and general professionalism.
5. Education Volunteer Background Check
The Peter B. and Adeline W. Ruffin Foundation established the Ruffin Distinguished Artist-in-Residence at the University of Virginia. The endowment created an annual position designed to bring mid-career artists and artists of significant international stature to the University on a rotating basis. The artist is expected to be in physical residence at the University of Virginia for the duration of the time allocated.
Artists interested in exhibiting in the future, please contact Emily Daniel