About the Ruffin Gallery:

Since 2008, the Ruffin Gallery is an active part of the Studio Art program. Each year the gallery hosts four to six exhibits that serve as the University's most important showcase for contemporary art and are an integral part of the Studio Art experience. Students are involved with the production and installation of these exhibitions and gain valuable experience in the handling and hanging of important works of all types. The gallery hosts a show by each year's Ruffin Distinguished Artist-in-Residence. Every spring the gallery is the site of the Fourth-Year Thesis and Aunspaugh Fellows Exhibitions. The openings are important occasions when the whole studio program gathers to celebrate the successful completion of the major. In addition to the Ruffin Gallery, student and visiting artist work is frequently shown in the RuffStuff and Media Galleries on the first floor of Ruffin Hall.

We are not accepting proposals for the Ruffin Gallery at this time. Any questions may be directed to Emily Daniel​
---
Current Exhibition
Murmuration
August 25 - October 26
Opening Reception: Friday, August 25, 5:00-7:00pm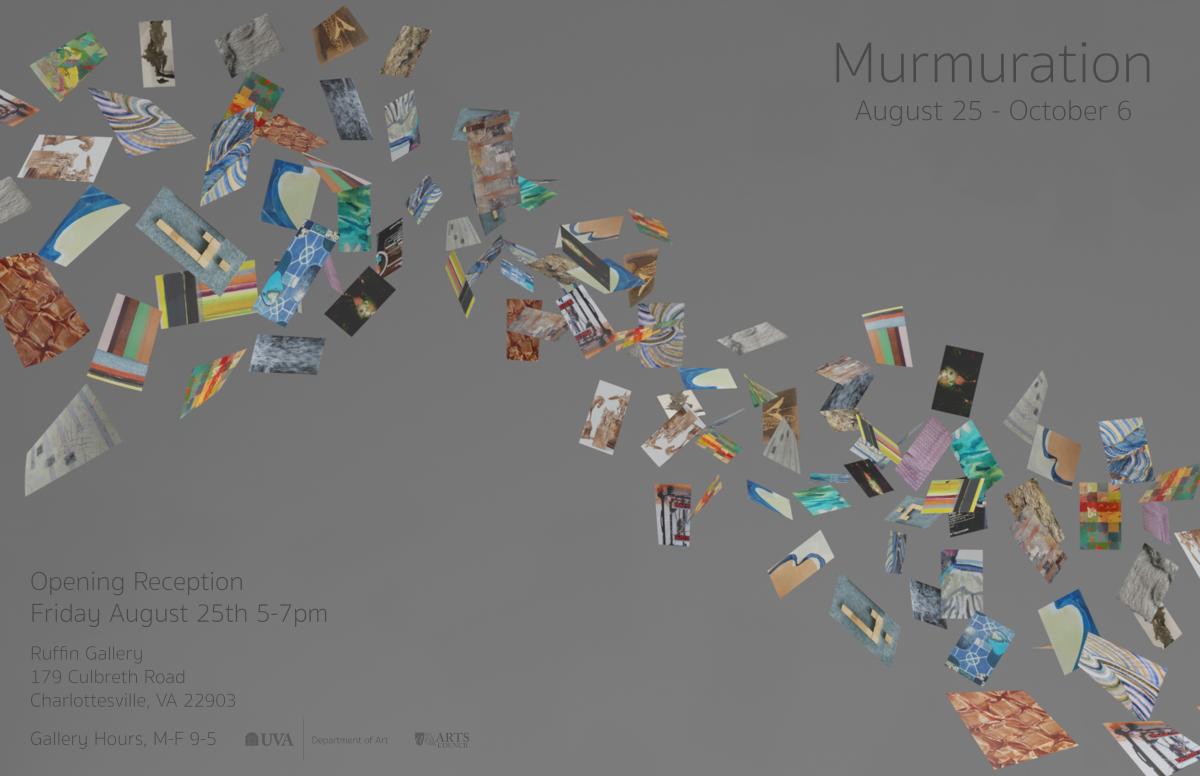 Supported by the UVA Arts Council and the UVA Department of Art
Former art students, colleagues, and mentors of Elizabeth Schoyer are combining energy, moving through the air, connecting creative visions, and converging in Ruffin Gallery for six weeks this fall. This show is curated by Professor Schoyer, who has taught introductory and advanced drawing, as well as painting, in UVA's Studio Art Program for many years.
Murmuration Artists:
Golnar Adili | Michael Bogin | Erin Crowe | Ellen Driscoll | Ellen Gallup | Rachel Lane | Kera MacKenzie | Andrew Mausert-Mooney | Sarah Morrison | Kristen Nyce-Reed | Danielle Riede | Martha Saunders | Sandy Williams IV
---
Recent Exhibitions
UVA Ruffin Gallery • Feb 24 — Mar 24

Opening Reception • Fri, Feb 24, 5:00pm — 7:00pm
Every bit unrending, unreading is a collection of works that examines the tension between that which is archivable and that which is not.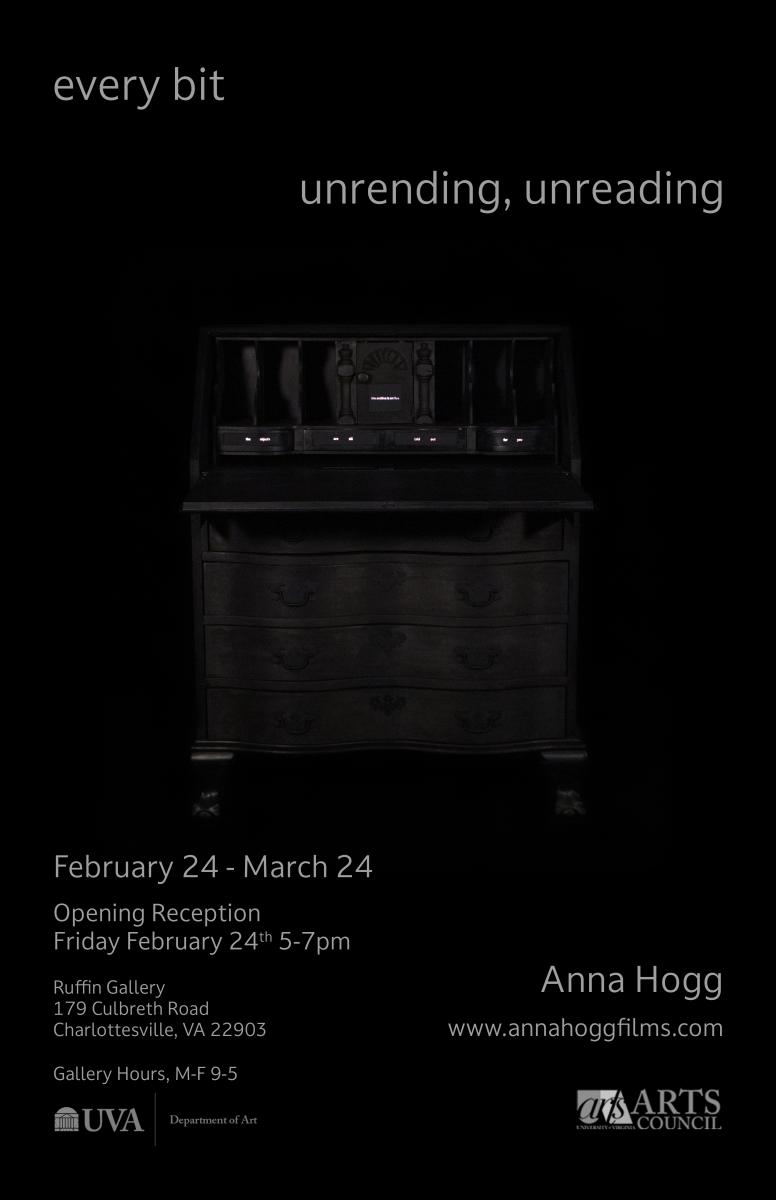 Women in the artist's family do the labor of preservation, as they hand-wash a quilt made by her great-grandmother, imagining and remembering fragments of its story. Uncertainty surges as faded ink-stains appear on the quilt only after being soaked in water. This collective work is posed alongside a film that imagines the perspective of an archive as it destroys—or erases—itself. Feeling around in the dark, one still senses its presence, but like the edges of burnt paper, it crumbles upon the slightest disturbance. One may only read the traces of memory backward, through absence. The viewer is invited to read the space, its images and its objects, differently, through failure. What remains, and what takes the place of an archive that is itself limiting and limited in how and what it preserves? Generously supported by the UVA Department of Art and the UVA Arts Council.
Anna Hogg is an artist and filmmaker whose work addresses the relationship between memory and the body archive. These investigations extend to the collective feminine that gathers memory, its objects and stories, the relationship between trauma and memory, and the intergenerational archive in contrast to that of the institution. Within these contexts, one finds that the act of remembering and forgetting, preserving and refusing—making into refuse—are often intimately connected, and the boundary that divides them more fluid.
January 27 - February 17
Aesthetics of Undocumentedness
Curated by Erika Hirugami, MA. MAAB.

Partners
CuratorLove • Visible/Records • Rasquache Residency
Sound Justice lab • UVA Arts Council
There is no easy way to define undocumentedness and no single definition that stands true across the globe. In the words of Jose Antonio Vargas, "If there are an estimated 45 million immigrants living in America, then there are 45 million ways of being an immigrant in America. Like all groups, we are not a monolith."[1] Of those forty-five million immigrants, and as per the Department of Homeland Security, eleven million immigrants currently residing in the United States are unauthorized.[2] Borrowing Jose Antonio Vargas' logic, there are eleven million ways of being undocumented in the United States. Thus, to completely comprehend undocumentedness, and in the words of Federico Cuatlacuatl, one must consider undocumentedness a spectrum.[3] To understand the complexity of belonging to the undocumented community, the undoc+ spectrum and undocumented diaspora emerge to tease out undocumentedness. Individuals within the undoc+ spectrum have lived or are currently living undocumented, whereas individuals in the undocumented diaspora are directly or indirectly affected by undocumentedness but have not embodied undocumentedness themselves. Examples of the undoc+ spectrum are current or former undocumented individuals, while examples of individuals in the undocumented diaspora are children or partners of individuals in the undoc+ spectrum.
October 28 - December 9
Breaking Water
Calista Lyon and Carmen Winant
The collaborative work of Calista Lyon and Carmen Winant examines the profound psychological impact of ecological breakdown, with a particular focus on the interconnectedness of the water crises and the body. Both artists share an interest in the ways in which feminist and posthumanist perspectives have the potential to intervene within patriarchal and capitalist norms to radically shift the personal and political. Working from a research-based approach, Winant draws heavily on 1960s and '70s ecofeminist traditions and the lesbian feminist separatist movement to build alternative image archives that center women, collectivism, and care. Lyon, on the other hand, reflects on ecology, environmental precarity, and the historical and present-day human exploitation of land in installations and performances combining found images, obsolescent technology, and reclaimed materials.
For their installation at Ruffin Gallery, the artists mobilize water as a catalyst for thinking about transformation and societal paradigm shifts. Juxtaposing images of "water breaking" in the context of both childbirth and river restoration projects, the installation features videos played in rapid succession on a circular constellation of outdated CRT monitors resting on a custom table fashioned from recycled timber. Culling hours of footage from YouTube, television, and Hollywood cinema, Lyon and Winant assembled a living archive. Perhaps alluding to a shift in climate activism beyond pacifism or nonviolence, the clips feature dramatic footage of explosions and gushing water in the immediate aftermath of human-involved initiatives to liberate rivers and waterways from extractive dam infrastructure. This imagery is punctuated by kitsch, sometimes humorous portrayals of unsuspecting women in the process of labor when the amniotic sac ruptures and liquid pools on the floor. Altogether the installation presents a dizzying array of experiences, where, in the artists' words, "water never really 'breaks' but rather shifts form, moving in and out of bodies, [and] acts as both a signal and an agent of embodied change."
Drawing in part from Andrea Ballestero's text A Future History of Water and Astrida Neimanis's Hydrofeminism: Or, On Becoming a Body of Water Lyon and Winant seek to capture the moment of fundamental transformation that occurs when individuals are compelled to act in support of water's protection and larger efforts combating climate change. A soundtrack features the artists in conversation, responding to the prompts that guided their process in developing the work, including: When have we experienced perspectival "breaking through"? How do we relate to water in and of our own bodies? What are the most frightening or sublime encounters we have had with water? What can we learn from water? How do we move past the myth of our own powerlessness? The narration seems to echo internal dialogues we might all have had in coming to terms with the overwhelming feelings of suspension and urgency that are associated with climate grief. By using the transition between life in the womb and life outside of it, and the liberation of waterways as metaphors for thinking about the kind of paradigm shift that is needed for individuals to become politically and socially mobilized, Lyon and Winant engage in a radical reorientation of values and ethics—and prompt us to imagine a reality where we, like water, embody new modes of survival and resistance that are ever fluid, adaptable, and empowered.
-Amara Antilla, Senior Curator at Contemporary Arts Center
Ruffin Distinguished Artist in Residence Program

September 30 - October 21
Only Nearness
Jackson Taylor
New Works in Printmaking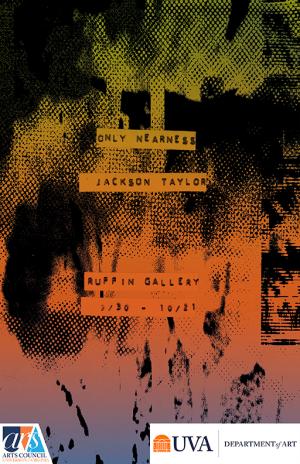 Currently the Assistant Professor of Printmaking and Drawing at the University of Virginia, Jackson Taylor was born and raised in rural Kentucky on a large intergenerational cattle and tobacco farm. He holds a BFA in 2D Studio Art from the University of Louisville and received his MFA in Printmaking and Drawing from the University of Iowa in 2021. He is a master of lithography and monotype processes, which he uses to generate multifaceted prints and drawings about growing up in the American South. Taylor has conducted printmaking workshops across the US and exhibited his work internationally.
---
August 26 - September 23, 2022
The transubstantiation of shoepolish.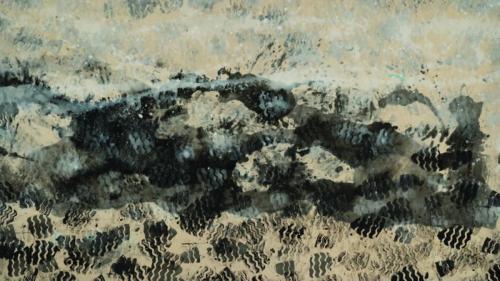 The power of this marginalized material of shoe polish does not go unnoticed. It is difficult to find in the grocery store. It is set aside, dusty, almost forlorn, and always on the lower shelf; yet, it possesses the power to marginalize a race, to set aside and further push down with its history in creating the "black face." This material has the dual nature to transpose into the ability to mock and suppress entire communities. The shoe polish by itself is innocent but once applied, becomes guilty. The idea to transform the material - give it another meaning and push it away from the suppressive and subversive undertones - ends ultimately with a transubstantiation of the material and a cleanse of its emotional volatile discourse. A change and shift in the view of the substance is the efficacious result.
Born in upstate New York, Michelle Gagliano currently practices from her studio in central Virginia. She has a MFA from American University and has completed residencies at the Chautauqua School of Art and Virginia Center for the Creative Arts and a fellowship with the Virginia Museum of Fine Arts. She has held solo exhibitions and curated group shows throughout the US, Europe, and Asia.
The Transubstantiation of Shoe Polish is on view through September 23, 2022.

---
May 21 - July 1, 2022
Pink
In celebration of the community of fourth and fifth-year student artists of the University of Virginia's Department of Art, the Ruffin Gallery presents a new group exhibition, Pink.
Emerging from a series of weekly thesis presentations by fifteen artists from the Studio Art program, the exhibition considers the color pink unbounded by the sticky connotations and associations of constructed contexts. Beyond its power to signify such disparate notions as queens and communists, innocence and excess, fleshiness and futurism, does pink have a material presence of its own? If so, what might a liberated pink make possible?
Exploring ideas including gender, disorientation, labor conditions, and trauma, the fifteen works on display in the Ruffin Gallery recreate the intimate environment of those Friday conversations. Pink combines the energies of those talks with the color's physical manifestations – from far beneath the Sahara's surface to an exoplanet 57 light-years away, from the fleshy organs of the body to the invisible edges of the rainbow.
Curated by Caroline Carter (Ph.D. candidate, Program in Mediterranean Art and Archaeology) and Brendan O'Donnell (Ph.D. student, Art and Architectural History), Pink is on view through July 1, 2022.
February 25 - March 25 2022
James Scheuren, I will never get tired and you will never get tired of me
The exhibition I will never get tired and you will never get tired of me. features new photographs and films by James Lam Scheuren including a collaborative series of silver prints with composer and intermedia artist, Alex Christie. The title, from an advertisement recited by the Edison Phonograph for itself, plays upon the never fulfilled utopian promise of technology with the new as the always same.
This exhibition is sponsored by the generosity of the UVA Arts Council.
James Lam Scheuren is an artist working in photography and motion picture whose work concerns how material culture exists to shape perception and the economy. He has had solo shows at the University of Vermont, Texas State University, and the University of Virginia and participated in national and international group exhibitions. Scheuren has been awarded residencies at the Skowhegan School of Painting and Sculpture, Vermont Studio Center, and Jentel Artist Residency. He teaches photography at the University of Virginia.
January 24 - February 24, 2022
Sepideh Dashti, Counterpoint
Counterpoint, includes recent and new photography, textile, and video installation work by Sepideh Dashti. Using personal and marginalized methods of research, as an artist Dashti performs her bodily material, stitching her hair and blurring the boundaries between languages, to challenge ideas of femininity and domesticity and depict the experience of her diaspora.
Not all diasporas are the same. Not all female experiences of oppression are the same. Dashti's experience as an Iranian diasporic woman is fragmented along ethnic, religious, social, political, and class lines. These fragments pose challenges to her attempts to bind with others and find solidarity based in multiculturalism and ethnicity. Dashti establishes her body as an integral material in her art practices to make the explanation of her experiences and challenges possible. She seeks to claim her body across multiple media to question her identity with regard to the deplorable conditions of history, language, and culture existing between different spaces she has occupied.
About the artist:
Dashti is an emerging interdisciplinary artist who lives in Memphis, TN, USA. She got her MFA from Western University in London, Ontario, Canada in 2020. Her artistic practice is related to exploring her body by creating performance, video, photography, and installation. Through multiple discourses and contexts, she is always rediscovering, reinventing, and reinterpreting her Iranian identity, as a pivotal point for exploring her work in the multiple and heterogeneous context. She is also interested to cross field appropriation of the dominant philosophy and the technology of video with her lived experiences in the process of making art work. Dashti earned her BFA, Fine Arts Studio Practice-Intensive Studio Specialization, Honours Digital Arts Communication Minor, at the University of Waterloo in Waterloo, Ontario, Canada with the Dean's Honours List. She is also a recipient of various awards such as the Lynn Holmes Memorial Award and Curator's Choice Award during her BFA. She received the Joseph-Armand Bombardier Canada Graduate Scholarship in social sciences and humanities research in 2019. Her work has been showcased nationally and internationally.
October 29 - December 17, 2021
Opening reception: October 29, 2021, 5:00 - 7:00 PM
The Caterpillar Set [El conjunto oruga], Christian Camacho
The Caterpillar Set gathers together a group of recent works whose signs occur within a shared imagination for sculpture, painting and light, as well as personal spaces and scales. Composed of materials of easy access and recurrent use in the representation of models and small-scale structures, each piece could function as a kind of brief station for sensations and scrutinies of different velocities, and for different types of expectations about the combination and recombination of a personal repertoire of treatments.
Elemental aspects within the realm of forms are what ultimately mobilize the intentions behind showing a world of integrated parts: compositions, relationships, figures, and backgrounds that are also in turn the objects and gestures of a life lived among close families of fragments—ingredients. Numerous forms that are constantly waiting to be able to construct the familiar from the unknown by reassembling the splinters that these small phenomena emit when they collide with one another.
Within this network of intentions we also see different lights flowing through openings: the appearance of constellations, colors, transparency, and other links among materials and their activity. We also find a transfer between the organic and the inorganic; the traces of tiny beings guided by appetite and nutrition, in coexistence with artificial supports, traditions of painting, and electronic beams.
This place-circuit invites us to look twice at the relationships among those things we use for calibrating our imagination, our gaze, and the immediate manipulation of the materials that surround our working days and nights. It is in this pursuit of sufficient amounts of energy that each piece presents its results, sharing them with the conscious understanding—both joyful and uncertain—that such calculations may never be exhausted.
I hope you enjoy the show.
Christian Camacho, translation by Byron Davies
The Caterpillar Set [El conjunto oruga] recoge un grupo de obras recientes cuyos signos ocurren entre una imaginación compartida para la escultura, la pintura, la luz, y los espacios y las escalas personales. Compuestas de materiales de fácil acceso y de uso recurrente en la representación de modelos y estructuras de la pequeña escala, cada pieza podría funcionar como una suerte de breve estación para sensaciones y escrutinios de distintas velocidades y para distintos tipos de expectativas sobre la combinación y recombinación de un repertorio personal de tratamientos.
Aspectos elementales dentro del reino de las formas son lo que ultimadamente moviliza las intenciones de mostrar a un mundo de partes integradas: composiciones, relaciones, figuras y fondos que a su vez son también los objetos y los gestos de una vida vivida entre cercanas familias de fragmentos: ingredientes. Numerosas formas que están todo el tiempo a la espera de poder construir lo familiar desde lo desconocido mediante el reensamblaje de las astillas que estos pequeños fenómenos emiten al chocar entre sí.
Entre esta red de intenciones vemos también a distintas luces correr por aperturas: la aparición de constelaciones, el color, la transparencia y otros vínculos entre los materiales y su actividad. Encontramos también una transferencia entre lo orgánico y lo inorgánico; la huella de seres diminutos guiados por el apetito y la nutrición, en coexistencia con soportes artificiales, tradiciones de la pintura y haces electrónicos.
Este circuito de lugares invita a mirar dos veces las relaciones entre las cosas que usamos para calibrar nuestra imaginación, nuestra mirada y la manipulación inmediata de los materiales que rodean nuestros días y noches de trabajo. Es en esta persecución de las cantidades suficientes de energía que cada pieza expone sus resultados y los comparte a consciencia de entender, jubilosa e inciertamente, que tales cálculos quizás nunca puedan agotarse.
Espero disfruten la muestra.
Christian Camacho
About the artist:
Christian Camacho (Estado de Mexico, 1985). Painting MA, Royal College of Art, London, UK. Visual Arts BA from ENPEG [National School of Painting, Sculpture and Printmaking] 'La Esmeralda' of the National Institute of Fine Arts, Mexico City, Mexico. His work has been shown in Mexico, Europe, the United States of America, and in South America in collaboration with institutions such as Museo Experimental El Eco, Museo de Arte Carrillo Gil as well as at the Royal College of Art and Imperial College in London, Palais de Tokyo in Paris, The Phoenix Art Museum and Museo Jumex in Mexico City. He has also been awarded grants from FONCA (National Endowment for the Arts, Mexico), and Fundación Jumex Arte Contemporáneo, where he designed and implemented education and public programs between 2014 and 2018. As part of his practice, Christian Camacho has also developed several formative initiatives –courses, seminars, workshops and readings– in collaboration with institutions and spaces such as Museo Tamayo, Museo Jumex, Instituto Alumnos, the International Symposium of Contemporary Art Theory PAC-SITAC in Mexico City, ESPAC, Colectivo Neter, Obrera Centro and Biquini Wax EPS among others. He is currently Professor at the Art Department of the University of Monterrey, in Monterrey, Mexico.
August 23 - October 15, 2021
Opening reception: August 27, 2021, 5:30 PM
Wild Whimsy, work by Emily Moores
An immersive installation adorned with colorful handmade textures and patterns; Wild Whimsy is a celebration of play. Using richly colored, large-scale sheets of paper, and hand cut patterns across space, Moores engages both the mind and body.
"When we look at play as a form of reducing stress and improving our memory, it's something that's really valuable on multiple levels."
Temporality is centerfold to Moores' installation. Rather than planning each detail beforehand, Moores let the space in Ruffin guide her, like a live drawing or a painting: "I think especially now where a lot of artwork is viewed online, installation brings a unique experience because it's not something that can be fully captured in a photograph; you have to physically walk through the space and experience it. For me the temporary nature of the exhibition brings viewers into the space."
The environment of bright blues, reds, and yellows and rich handmade textures invites movement and an engagement of the senses in the exhibition space. Wild Whimsy is on display in the Ruffin Gallery from August 21 to October 15. Wild Whimsy is the first exhibition in the Ruffin Gallery's new Exhibition Proposal Program.
About the artist:
Emily Moores is a visual artist living and working in Cincinnati, Ohio. Her work consists of hand-cut and ornately layered materials, which create both wall works and large-scale installations. Emily's work investigates the playful engagement of the body as essential to understanding and experiencing spaces or objects. Emily was selected as one of the Women to Watch 2020 by the Ohio Arts Council's Riffe Gallery in collaboration with the Ohio Advisory Group of the National Museum of Women in the Arts. She created 'Let's Celebrate,' a large scale installation consisting of wood, paper and fabric.Emily has shown her work regionally and nationally, including the Contemporary Arts Center (OH), the Riffe Gallery (OH), the Loudon House (KY), and the Dougherty Arts Center (TX). Emily Moores was a recipient of the Ohio Cultural Arts Individual Artist Award, the Summerfair Individual Artist Grant and the ArtPrize Seed Grant.
May 22 - June 18, 2021
The Spaces Between
This exhibition highlights the work produced by studio art majors during their final year at the University of Virginia. These artists responded to the uncertainty brought about by their personal circumstances and a global pandemic while on the cusp of entering the world beyond Grounds. During the shift to virtual learning, they physically created art with ephemeral materials that speak to the vulnerability of the ecosystems we inhabit and to the technologies that increasingly mediate our human interactions. They pictured the people who are at once present and absent from their lives. Through performance they explored feelings of belonging and alienation and confronted the larger systems that continue to oppress some and elevate others. They expressed their complex identities and family histories using dirt, paint, fabric, video, and photography. In the process of negotiating these apparent binaries, these sixteen artists drew from the gradations of their experiences to show that they––like all of us––exist in the spaces between. The exhibition was curated by Eleanore Neumann and Meaghan Walsh, PhD Candidates in Art and Architectural History at UVA. The Spaces Between will be on view through June 18, 2021.
April 5 - May 7, 2021
4th and 5th Year Thesis Exhibitions
For more information, view the press release.
Thesis shows in Studio Art are the culmination of not only one, but four academic years of undergraduate Liberal Arts at UVa. We, as faculty & staff, are incredibly proud of the hard work all our students put into their creative practices and exhibitions. This year is exceptional in the sense that we have been largely online in the continuing midst of a global pandemic - testament to our collective belief in visual art as a vital force in our communities and daily lives. Please join the Department of Art and rest of our community in congratulating our graduating students & 5th year Aunspaugh Fellows on the work they have done and the exhibitions we now get to enjoy at Ruffin Hall.
March 1 - 26, 2021
Neal Rock, Flesh Poems
Flesh Poems takes its name from an essay by art historian Suzannah Biernoff on the life and work of artist and educator, Henry Tonks (1862 – 1937). Today Tonks is perhaps best known for his surgical drawings of WW1 soldiers whose faces underwent reconstructive surgery by one of the progenitors of modern-day plastic surgery, Harold Gillies. Tonks was himself a surgeon and longstanding teacher of drawing and anatomy at London's Slade School of Art, where he taught amongst others painters such as Paul Nash and Gwen John.
Tonks' surgical pastels, often depicting before and after renderings of Gillies' operations, possess qualities of intimacy and horror, abjection and the irreducible materiality of flesh, skin and bone. These works stand not in art museums or galleries but in medical and surgical archives. As such their status as cultural artifacts remain open, porous, open to hermeneutic doubt and ambivalence. Their current resting place is then a frame of sorts, one that is internal and external to Tonks' portraits.
In her essay Biernoff notes that Tonks referred to his pastels as fragments of the human. It should be clear that these are indeed literal fragments of war-torn faces. We could acknowledge torn psyches and bodies, irrevocably impacted by a carnage beyond words - here in these mute spaces Tonks' poems find resonance. They are, in such wordlessness, provoking the invention of language or at least some kind of semiotic that might grasp hold of something approaching meaning. These fragments, held within blasted faces and folded reconstructions, are potentially an opening chapter for an abstraction that enters consciousness through disfiguration.
In a recent catalogue essay for MoCA's Pattern & Decoration survey exhibition, LAXART curator Hamza Walker playfully inverts Clement Greenberg's notion of homeless figuration, a term used by Greenberg for an emergent abstraction containing floating fragments of representation. Walker observes a homelessness rooted in the kind of work championed by Greenberg, and poses a question as to the cost of such insularity both then and now.
These faces bearing human brutality and tenderness are, in their very dislocation and disfiguration, a home of sorts - a focus on limits and boundaries as a means to regenerate meaning and value. Tonks was known for his privileging of the haptic as an art educator, his touch is just one of the many latent places where an ethics of abstraction could take root, face to face.
David Edward. February 26th, 2021
February 1 - 19, 2021
2021 Studio Art Department Faculty Exhibition
With 14 contributing artists, this exhibition showcases the versatility of UVA's Studio Art Department faculty members as both teachers and masters of their own artistic craft
The 2021 Studio Art Department Faculty Exhibition offers UVA and the Charlottesville community the opportunity to discover the recent artistic endeavors and professional accomplishments of faculty in the Studio Art Department. On view at the Ruffin Gallery for the month of February, this exhibit highlights the collective creativity of UVA faculty artists whose art-making practice is at the core of their teaching and scholarship. It presents current trends in contemporary art and the creative possibilities of a wide range of media, including photography, video, sculpture, printmaking, and painting.
"We're excited to show recent work by the studio art department faculty and staff," said William Wylie, current Director of Studio Art and photography professor. "There hasn't been a department exhibition like this for over three years and it's a great opportunity for students to see the work of their professors and for the greater community to see what we do in Ruffin Hall."
The exhibition was curated by Lucia Colombari and Kelvin L. Parnell Jr., PhD Candidates in the Art and Architectural History Program at UVA. Participating artists include William Bennett, Amy Chan, Federico Cuatlacuatl, Kevin Everson, Carissa Kalia Heinrichs, Dan Hoogenboom, Megan Marlatt, Ed Miller, Lydia Moyer, Neal Rock, Akemi Ohira Rollando, James Scheuren, Elizabeth Schoyer, Matt Shelton, and William Wylie.
October 12 - December 18, 2020
Barbara Campbell Thomas: Pneuma
Equal parts collage, fabric, and sketchwork, Barbara Campbell Thomas couples paint with quiltwork in her contemplative study of where the spiritual meets the physical
For artist Barbara Campbell Thomas, "pneuma", stemming from the ancient Greek word for "breath", is a creative force and spirit which guides everything that she does. As an abstract painter, Barbara's work is a meditation on giving form to that "breath", a commitment to capturing what is unsayable.
Combining bright hues of color, layers of paint, and the technique of sewing, Barbara's paintings are as much about the physical process itself as they are about the final product: "I am a physical being, and my engagement with paint, with painting, is an intensely physical act. But it is the physical engagement with material that has the potential to move into immaterial realms of inquiry. This has always been my experience as a painter."
One process that is central to Barbara's work in particular is sewing and creating patterns through quilting. Her connection to sewing came from her mother, who is a quilter herself. Learning from her mother how to quilt in 2014, Barbara immediately became attracted to the activity of what is called piecing, which is sewing together shapes side by side to create a seam. "I quickly started to see that this sewing could be the ground of the painting itself ... The sewn layer felt so rich; it almost felt like a missing part of the work was suddenly present."
Another dimension of Barbara's work is her sketchbooks, the covers of which are quilted by her mother. An intense record of her thought process for the past 20 years, the sketchbooks are an integral part of her studio practice. "My sketchbooks always predict what's going to come."
The linear aspect of her thoughts comes to life through her paintings. In particular, Pneuma, which the exhibition is named after, went through a drastic overhaul over the course of the pandemic. It was the first time she took a painting off and recut and resewed it back together. The development of her ideas is a testament to how being open to adapting is not only a part of being an artist, but also integral to shaping identity. "I think making a lot of work is a great way to figure out who you are. You just have to make a lot of work and sometimes a lot of it is going to be bad, and that's okay. I think we live in a culture that doesn't know what to do with failure. You have to engage with failure as an artist at any age because that is the way in which you figure out what's working and what's not."
Barbara Campbell Thomas lives and works in Climax, North Carolina. Her work combines painting with quilting, overlaying their material vocabularies to create complex formal dialogues within each painting that resonate with the details of her own life and the history of each medium. She came relatively late to quilting, which she learned from her mother, but quickly realized its power as an art form traditionally practiced by women to inform and expand the range of painting.
Barbara Campbell Thomas's paintings have been exhibited in museums and galleries across the United States, at the Weatherspoon Art Museum, The Painting Center, the Atlanta Center for Contemporary Art, The Southeastern Center for Contemporary Art and the North Carolina Museum of Art. She has been an artist-in-residence at the Hambidge Center for Creative Arts and Sciences, the Skowhegan School for Painting and Sculpture and, in 2021, she will attend the Elizabeth Murray Artist Residency. She is a recent recipient of a North Carolina Artists Fellowship.
Barbara Campbell Thomas is an Associate Professor of Art at UNC Greensboro.
In conjunction with her exhibition, Ruffin Gallery Assistant, Olivia Pettee, sat down with Barbara to talk about her process, inspiration, and thoughts behind her show.