Location:
Ruffin 323
Lab Manager:
Supporting all of your coursework 3D needs!
PLA Printing

Resin Printing

CNC foam milling

Photogrammetry

Laser Scanning
The Lemonade stand is a limited access lab, intended for studio and art history coursework. It offers resin and PLA printing as well as laser scanning and photogrammetry services. Additional services, such as CNC milling and laser cutting, can be scheduled by special request.
The Lemonade Stand supports original student work. If you wish to print a pre-made model, please use the Clemons Media Lab.
Undergraduate students wishing to print their original work should consult with the lab manager, Victoria Valdes, and email or Box her their STL, OBJ or other format 3D file. If an extensive amount of material will be used, the student should arrange an at-cost purchase with their professor or coursework advisor. PLA prints 3" or under will be undertaken at no charge, provided the Lemonade Stand has the appropriate filament on hand.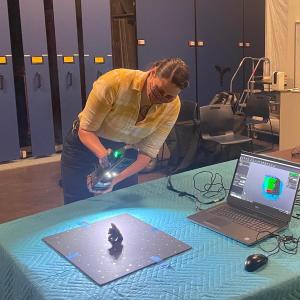 Students wishing to use photogrammetry or laser scanning to replicate an object should email Victoria for an appointment, which will be held during the 9-5 business hours Tuesday-Friday. The printable files for these objects will be provided to the student free of charge, and that student may choose to print the objects using the standard procedure.
Advanced students working on a senior thesis or other cumulative project may request their original object to be fabricated in foam on the CNC router. This is a labor intensive project that requires several weeks of lead time for scheduling, slicing and packing the file. Students are responsible for providing their own 2"x 4'x 8' insulation foam for such projects, or may collaborate with another student if their desired output object is small enough to take up less than one sheet.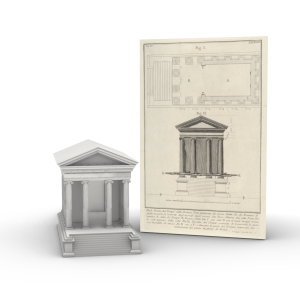 Graduate students in Art and Architectural history may also make special requests for a full 3D model construction of a relevant object to their PhD. Such projects are not limited by scale given that the output is digital, and can range from a small handheld item to a large building complex. These models may take up to a month or more to complete, depending on their complexity.
Faculty are at liberty to request any of the above services and additional modeling, fabrication, rendering, or editing support as needed, and will be accommodated if at all possible, given a sufficient amount of lead time.
Please consult with Victoria early on any project that requires a complex model or physics rendering as these will, by necessity, take a substantial amount of time to create. Due to the rigors of the modeling and rendering process, last minute requests cannot be fulfilled.
Victoria is also happy to consult with students, faculty and staff about their projects by appointment or during regular open hours, Tues-Thurs 9-5. She has a wide selection of tools for creating, editing and fixing models.