Partners
CuratorLove • Visible/Records • Rasquache Residency
Sound Justice lab • UVA Arts Council
There is no easy way to define undocumentedness and no single definition that stands true across the globe. In the words of Jose Antonio Vargas, "If there are an estimated 45 million immigrants living in America, then there are 45 million ways of being an immigrant in America. Like all groups, we are not a monolith."[1] Of those forty-five million immigrants, and as per the Department of Homeland Security, eleven million immigrants currently residing in the United States are unauthorized.[2] Borrowing Jose Antonio Vargas' logic, there are eleven million ways of being undocumented in the United States. Thus, to completely comprehend undocumentedness, and in the words of Federico Cuatlacuatl, one must consider undocumentedness a spectrum.[3] To understand the complexity of belonging to the undocumented community, the undoc+ spectrum and undocumented diaspora emerge to tease out undocumentedness. Individuals within the undoc+ spectrum have lived or are currently living undocumented, whereas individuals in the undocumented diaspora are directly or indirectly affected by undocumentedness but have not embodied undocumentedness themselves. Examples of the undoc+ spectrum are current or former undocumented individuals, while examples of individuals in the undocumented diaspora are children or partners of individuals in the undoc+ spectrum.
Speakers: Jackie Amezquita, MFA from UCLA. Federico Cuatlacuatl, MFA from Bowling Green State University. David Cuatlacuatl, MFA, from Pennsylvania State University. Francisco Donoso, BFA, from the State University of New York. Luis Fidencio Fifield-Perez, MFA, from the University of Iowa. Luis Alvaro Sahagun, MFA from the Northern Illinois University.
Keynote: Erika Hirugami, MA. MAAB.
A migrant is perpetually unfinished.
Instead of a living embodiment of one's place of origin,
a person is a work of art constantly in revision.[4]
Undocumented immigrants have the supernatural ability to live a life beyond linear time. For the individuals in the undoc+ spectrum, today is withstood with hope that tomorrow will be a return to yesterday. Leaving the comfort of home toward the unknown in the hope of a better future often means leaving our ancestors and children behind, forgetting our memories, constant policing by others, and invisibilizing fragments of self just to survive. As per Audre Lorde, in a society where good is defined in terms of profit rather than in terms of human need, there must always be some group of people who, through systematized oppression, can be made to feel surplus and occupy the place of the dehumanized inferior.[5] Across the globe the members of the undoc+ community are tasked to embody said surplus. In the words of Federico Cuatlacuatl, we need to build a future where we see ourselves thriving beyond surviving; this future must become blurred with the past and the present because we exist in multiple temporalities simultaneously.[6]
Speaker Bios:
Jackie Amezquita, MFA
Federico Cuatlacuatl, MFA
Francisco Donoso, BFA
Luis Fidencio Fifield-Perez, MFA
Erika Hirugami, MA. MAAB
Luis Sahagun, MFA
Nicole Solis-Sison, BFA
Symposium organized by the UNDOC+Collective
in partnership with CuratorLove, Rasquache Residency, Art History Graduate Association
Visible/Records, Sound Justice lab, UVA Department of Art, and supported by an Arts Enhancement Grant from the Office of the Provost & the Vice Provost for the Arts.
___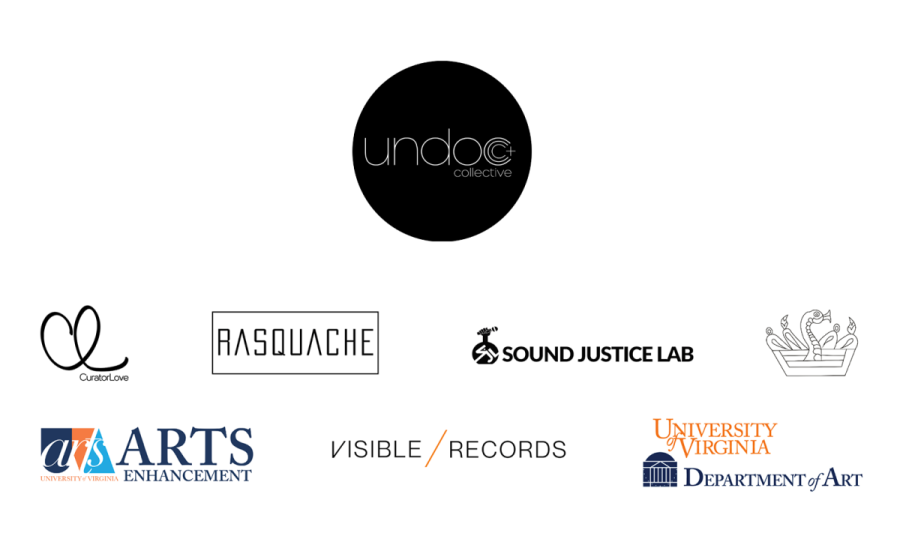 ---
[1] Jose Antonio Vargas, "If There Are an Estimated 45 Million Immigrants Living in America, Then There Are 45 Million Ways of Being an Immigrant in America. Like All Groups, We Are Not a Monolith.," accessed May 14, 2022, https://twitter.com/joseiswriting/status/1524837404649017345.
[2] Bryan Baker, "Estimates of the Unauthorized Immigrant Population Residing in the United States: January 2015–January 2018," 2021, https://www.dhs.gov/.
[3] Erika Hirugami, "In Conversation with Federico Cuatlacuatl" (Virginia | Los Angeles, May 7, 2022).
[4] David Cuatlacuatl
[5] Audre Lorde, "Age, Race, Class, and Sex: Women Redefining Difference," in Gender Through The Prism of Difference, ed. Maxine Baca Zinn, Third (New York • Oxford: Oxford University Press, 2005), 245.
[6] Federico Cuatlacuatl in conversation with Erika Hirugami, Aug 12, 2022.