Saturday, October 1, 2022
6:30 pm | Visible Records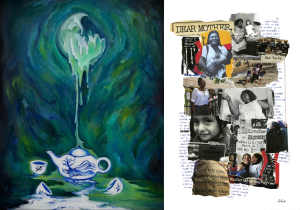 Please join JaVori Warren & Megan Richards - 2021-22 Freeman Artist Residents - for the closing reception of their exhibition, THIS IS THE PLACE. The reception is this Saturday October 1st from 6.30pm at Visible Records Gallery in Charlottesville. See link below for further details. The artists will be in conversation with current UVA Aunspaugh Fellows from 7pm. Music, food and drinks until late.
The Freeman Artist Residency also welcomes 2022-23 residents, Caro Campos and Dorothy Li. Attached are images of recent work and further information below. Caro and Dorothy will be making work at the FAR studio located at Visible Records through August 2023. Each receives a material stipend, mentorship and an end-of-residency exhibition at Visible Records Gallery.
Caro Campos (she/her)
Is an artist and writer based in Charlottesville, Virginia. She grew up in Brazil, California, Wisconsin, and Virginia, and most recently graduated from the University of Virginia with a degree in Political & Social Thought and a minor in Urban & Environmental Planning. Her creative practice explores insurgent memory, critical geography, and migration. She mobilizes collage as a method in her organizing and community-building practices to map, dream, and visualize new modes of life, care, and personhood outside and in refusal of systems of domination. Campos desires to reconsider and resist mere recognition as an end within art. How might we build new worlds when no one can see them? When no one has seen them before? She is invested in thinking about the role that method, language, art, and text play in these inquiries.
Dear Mother. 2021. Paper collage. 11x17"
Dorothy Li
Is an interdisciplinary artist who engages in artistic practice regarding identity, loss, and connection. Using animation, drawing, painting, and sculpture, Li explores her cross-cultural identity by investigating how art can be a bridge between her American and Chinese cultural heritage. Her art holistically represents a storytelling timeline that expresses a myriad of her lived experiences that changes alongside her perspective on life. Li graduated from the University of Virginia with a bachelors in Studio art and Psychology in the Spring of 2022.
To Be There. 2022. Oil on Canvas. 11.5 x 14.5 inches