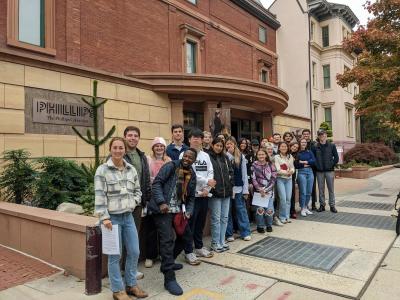 Gain valuable museum experience in Washington, DC at America's oldest museum dedicated to modern and contemporary art. Prepare for the working world and learn firsthand what the field is about!
Overview: The Phillips Collection is seeking a summer intern from UVA Art Department to work across museum departments and assist with planning and research for special projects on modern and contemporary art. This is an in-person internship at the Phillips (with possible hybrid opportunities) that may require offsite research in the DC area's local libraries and archives.
Responsibilities (include but are not limited to): conducting primary and secondary research at area libraries, compiling bibliographies, gathering images, preparing powerpoints and correspondence, and other day-to-day activities, as assigned.
Qualifications: This internship opportunity is open to rising 2nd, 3rd, and 4th year UVA art history undergraduate majors. Excellent research, writing and organizational skills, with knowledge of modern art and contemporary art from global perspectives with special interest in diasporic studies.
Internship Period: 8 weeks: May 29– August 11 2023
Schedule: 29 hours/week; Monday through Friday between 9:00 am and 5:00 pm.
To apply: Please attach a cover letter, resume, writing sample (500 words), and contact information for at least two references by March 22 using this application link:
IMAGE: University of Virginia art history students and Art History Professor Elizabeth Hutton Turner at The Phillips Collection
ABOUT THE PHILLIPS COLLECTION
The Phillips Collection, America's first museum of modern art, was founded in 1921. The museum houses one of the world's most celebrated Impressionist and American modern art collections and continues to grow its collection with important contemporary voices. Its distinctive building combines extensive new galleries with the former home of its founder, Duncan Phillips. The Phillips's impact spreads nationally and internationally through its diverse and experimental special exhibitions and events, including its award-winning education programs for educators, students, and adults; renowned Phillips Music series; and dynamic art and wellness and Phillips after 5 events. The museum contributes to global dialogues with events like Conversations with Artists and Artists of Conscience. The Phillips Collection values its community partnership with THEARC—the museum's satellite campus in Southeast DC. The Phillips Collection is a private, non-government museum, supported primarily by donations.