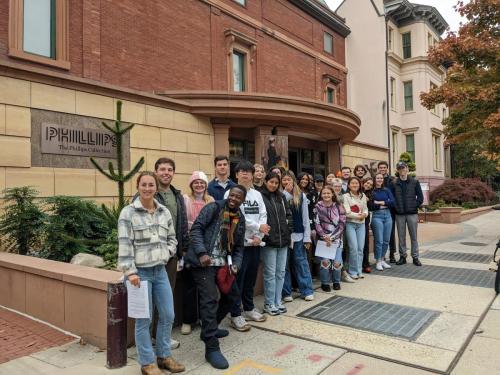 The Phillips Collection has announced a new academic partnership with the University Virginia. The partnership is slated to begin in fall 2023 and will provide rich and meaningful opportunities in education, innovation and research, interdisciplinary collaboration, and diversity and inclusion initiatives—all hallmarks of each institutions' mission.
The collaboration between the museum and university will support two main programs—an annual Predoctoral Fellowship in Modern and Contemporary Art History and a Summer Undergraduate Internship. The fellowship will support graduate-level, interdisciplinary research in American, European, or non-Western art and art history from approximately the 1750s to the present. Proposals will focus on a commitment to social justice and an engagement with postcolonial and diasporic studies.
The Predoctoral Fellows in art history and archeology will perform independent scholarly work that broadens and diversifies their conducted research. They will work at the Phillips, allowing them to benefit fully from museum resources—including the library and archives and the permanent collection—furthering their dissertation research more deeply. Each fellow will present one public lecture, meet with Phillips colleagues, and participate in cross-departmental meetings, programs, and events. The Phillips Collection and UVA will select fellows according to the Phillips's DEAI strategic goals of fostering a professional and scholarly community that reflects the diversity of today's society.
The Summer Undergraduate Internship will run for an eight week-period and will be open to art history students from UVA who are interested in the museum cross-departmental experience, gaining firsthand exposure to arts and nonprofit administration.
Overview: The Phillips Collection is seeking a summer intern from UVA Art Department to work across museum departments and assist with planning and research for special projects on modern and contemporary art. This is an in-person internship at the Phillips (with possible hybrid opportunities) that may require offsite research in the DC area's local libraries and archives.
Responsibilities (include but are not limited to): conducting primary and secondary research at area libraries, compiling bibliographies, gathering images, preparing powerpoints and correspondence, and other day-to-day activities, as assigned.
Qualifications: This internship opportunity is open to rising 2nd, 3rd, and 4th year UVA art history undergraduate majors. Excellent research, writing and organizational skills, with knowledge of modern art and contemporary art from global perspectives with special interest in diasporic studies.
Internship Period: 8 weeks
Schedule: 29 hours/week; Monday through Friday between 9:00 am and 5:00 pm.
To apply: *Application form coming soon*
IMAGE: University of Virginia art history students and Art History Professor Elizabeth Hutton Turner at The Phillips Collection
ABOUT THE PHILLIPS COLLECTION
The Phillips Collection, America's first museum of modern art, was founded in 1921. The museum houses one of the world's most celebrated Impressionist and American modern art collections and continues to grow its collection with important contemporary voices. Its distinctive building combines extensive new galleries with the former home of its founder, Duncan Phillips. The Phillips's impact spreads nationally and internationally through its diverse and experimental special exhibitions and events, including its award-winning education programs for educators, students, and adults; renowned Phillips Music series; and dynamic art and wellness and Phillips after 5 events. The museum contributes to global dialogues with events like Conversations with Artists and Artists of Conscience. The Phillips Collection values its community partnership with THEARC—the museum's satellite campus in Southeast DC. The Phillips Collection is a private, non-government museum, supported primarily by donations.