Caroline Carter
PhD Student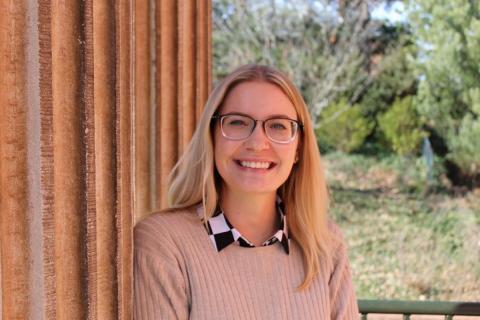 Email
Caroline Carter is a fourth-year Ph.D. candidate in the Program in Mediterranean Art and Archaeology studying Classical Archaeology under Dr. Tyler Jo Smith. Her research interests are interdisciplinary, focusing on ancient Greek religion and ritual (primarily during the Archaic and Classical periods), myth and iconography, animal studies, the archaeology of sacred landscapes, and the regions of Attica and Arcadia in Greece.
Her dissertation focuses on caves with archaeological and textual evidence for religious ritual activity in ancient Athens and its surrounding territory ca. 750-300 BCE. As part of this study, it incorporates a detailed analysis of the caves and their relationship to features in the natural and built environments in order to better understand how the caves operated individually and as a possible network of religious activity in the landscape. It is hoped that such an approach will deepen our already rich understanding of ancient Greek religion and its associated practices.
Caroline received B.A. degrees in Classics (Classical Archaeology) and Religious Studies (Ancient Religions) from the University of North Carolina at Chapel Hill in 2014. She also completed their Post-Baccalaureate Program in Classics in 2017. She received her M.A. in Classics (Classical Archaeology) from the University of Arizona in 2019 where she wrote her thesis entitled, "Theriomorphic Forms: Analyzing Terrestrial Animal-Human Hybrids in Ancient Greek Culture and Religion."
Caroline has participated on several excavations: Huqoq Excavation Project (Israel) (2011-12), Azoria Excavation Project on Crete (Greece) (2014), the Mt. Lykaion Excavation and Survey Project in Arcadia (Greece) (2018-2019), and the Coastal Caesarea Archaeological Project (Israel) (2022). She has also interned in curatorial departments at the North Carolina Museum of Art and Ackland Art Museum (UNC), working with collection material from the ancient Mediterranean, and co-curated an exhibition entitled, Pink, at the Ruffin Gallery (UVA).
During the 2022-2023 academic year, Caroline is a digital humanities fellow of the Praxis Program at the UVA Scholar's Lab.