James Razumoff
PhD Candidate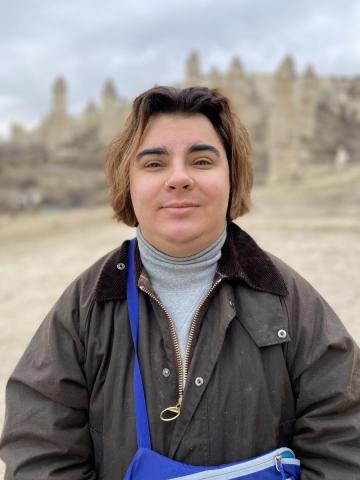 Email
James Razumoff (he/they) is a PhD Candidate in Program for Mediterranean Art and Archaeology studying under Dr. Fotini Kondyli. James' research focuses on urban life of the Eastern Roman (Byzantine) empire, with a specific interest in human-environment relations and non-elite political agencies.
James' dissertation, Political Ecology of the Eastern Roman City (6th to 9th centuries CE), examines the political life of cities through the decision-making of urban non-elites in response to environmental disasters, such as earthquakes, floods, and silting of harbors. The dissertation hopes to demonstrate that the cities' ability to generate effective disaster response and crisis management techniques contributed to the survival of the empire into the 9th century.
At the University of Virginia, James is a graduate affiliate in the Environmental Humanities program. He had equally held numerous committee service positions, including Graduate Symposium in Art History, Art History Graduate Student Association (AHGA), and AGHA Committee on Land Acknowledgements. He is also a recipient of the department's Teaching Excellence Award.
James received a B.A. in Classics with a minor in Law & Society from Cornell University in 2018. In 2019, he attended Classical Summer School of the American Academy in Rome (AAR). As a field archeologist, he worked in Doclea, Montenegro (2017) and Phanagoria, Russia (2021). For the 2022-2023 academic year, James is a Fellow at Koç University's Research Center for Anatolian Civilizations (ANAMED) in Istanbul, Turkey.