Richard Guy Wilson
Commonwealth Professor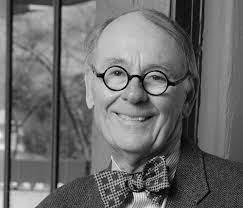 Personal Website
Email
Richard Guy Wilson holds the Commonwealth Professor's Chair in Architectural History at the University of Virginia (Thomas Jefferson's University) in Charlottesville, Virginia. His specialty is the architecture, design and art of the 18th to the 21st century both in America and abroad. He was a visiting fellow at Cambridge University (England) in 2007.
He was born in Los Angeles---the home of everything new---and grew up in a house designed for his parents by the leading modernist Rudolph Schindler. He received his undergraduate training at the University of Colorado and MA and Ph.D. at the University of Michigan.
Wilson has received a number of academic honors, among them a Guggenheim fellow, prizes for distinguished writing, and in 1986 he was made an honorary member of the American Institute of Architects (AIA). He received the outstanding professor award at the University of Virginia in 2001. He has directed the Victorian Society's Nineteenth Century Summer School since 1979 that has been located in Boston, Philadelphia and currently Newport, RI. He has served as an advisor and commentator for a number of television programs on PBS, A&E, and sixty-seven segments of America's Castles.
A frequent lecturer for universities, museums and professional groups, he has also published widely with many articles and reviews to his credit. Wilson has been the curator and author for major museum exhibitions such as The American Renaissance, 1876-1917, The Art that is Life: The Arts and Crafts Movement in America, The Machine Age in America, 1918-1941, The Making of Virginia Architecture, and Jefferson's design for the University of Virginia. A major exhibit on the Colonial Revival will be at the Virginia Museum and other venues in 2015-16.
He is the author or joint author of 16 books that deal with American and modern architecture which include studies of McKim, Mead & White, Monument Ave in Richmond, the AIA Gold Medal, a contribution to the recent books on RM Schindler, and David Adler, and principle author and editor of the Society of Architectural Historians book, Buildings of Virginia: Tidewater and Piedmont (2002). His The Colonial Revival House was published in the fall of 2004, Harbor Hill: Portrait of House in 2008, and Thomas Jefferson's Academical Village was reissued in a new edition in 2009 and the University of Virginia Campus Guide in 2012. Also published in 2012 was Edith Wharton at Home: Life at the Mount, which treats the architectural interests and contributions of one of America's leading writers.