Tyler Jo Smith
Professor, Art History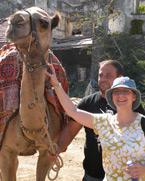 Email
Tyler Jo Smith is Professor of Mediterranean Art and Archaeology and the Director of the Interdisciplinary Archaeology Program. As a specialist in ancient Greek vase painting, she is particularly interested in the iconography of performance and the relationship between art and religion. Smith is the author of Komast Dancers in Archaic Greek Art(Oxford 2010), the co-editor of A Companion to Greek Art (with D. Plantzos, 2012), and is currently writing The Art of Greek Religion(under contract with U. Penn Press). An active field archaeologist, Smith has participated on excavations and surveys in Greece, Sicily, Turkey, and England. In 2011 she joined the excavations at Hacımusalar Höyük with Bilkent University and the University of Richmond, for which she is publishing the votive sculpture.
Smith has received both national and local teaching awards, including the Award for Excellence in College Teaching given by the Classical Association of the Middle West and South in 2010, and the UVa Student Council Distinguished Teaching Award in 2014. Her recent grants and awards for research include the A.D. Trendall Fellowship at the Institute of Classical Studies in London, a Research Fellowship at the Center for Hellenic Studies (Harvard University) in Washington, D.C., a Research Fellowship of the M. Alwyn Cotton Foundation, and a fieldwork grant from the Mediterranean Archaeological Trust. Since 2008 she has been an elected Fellow of the Society of Antiquaries of London. For the academic year 2018-2019 she was Elizabeth A. Whitehead Professor at the American School of Classical Studies at Athens.
At UVa Smith is involved with the Hellenic Society and the Lebanese Club, and has been a Faculty Fellow of Hereford College since 2001. She is presently a member of the British School at Athens Foundation Board, the American Committee on the Corpus Vasorum Antiquorum (Archaeological Institute of America), and is also an Institutional Delegate for the American Research Institute in Turkey. Her other memberships and affiliations include the Classical Association of Virginia, the Archaeological Institute of America, for which she serves as Vice-President of the Charlottesville society, and the International Dance Council.For the academic year 2018-2019, Dr Smith has been appointed Elizabeth A. Whitehead Professor at the American School of Classical Studies at Athens.