Melissa Jordan Love
Affiliated Faculty and Academic Curator, The Fralin Museum of Art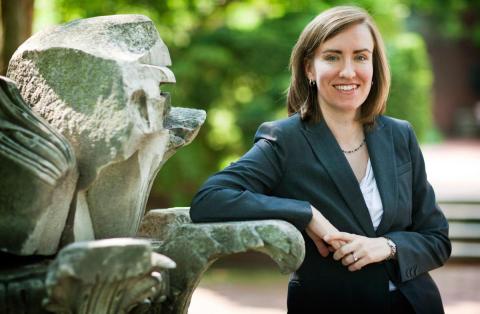 Email
Office hours: by appointment
In 2012, The Fralin Museum of Art appointed art historian Melissa Jordan Love as the Museum's first full-time academic curator. The position, funded by a three-year, Andrew W. Mellon Foundation Grant, aims to strengthen the museum's curatorial and academic programming mission as a teaching institution. Love develops educational programming around the Museum's exhibitions to enhance the learning of students at the University and the public's understanding of art.
She also plays an essential role in developing initiatives that integrate the museum with innovation in the humanities across the University, including the Mellon Indigenous Arts Program. Love also has a joint appointment in the College of Arts & Sciences' McIntire Department of Art, where she teaches from time to time, and she participates in the Institute of the Humanities & Global Cultures.
Love earned a Ph.D. in art history in May 2012 from Columbia University, where she focused on medieval art and architecture and the development of towns in southwest France during a time of large-scale town planning. She earned a bachelor's degree in art history and economics at Wellesley College in Wellesley, Mass.
She honed her passion for museum education experience at the Worcester Art Museum in Worcester, Mass., where she was a curator, and The Sterling and Francine Clark Art in Williamstown, Mass., where she said the opportunity to be involved in education, marketing and press efforts expanded her role and interaction with the collections and exhibits and her goal of making art accessible.
"Most museum experience is curatorial," Love said. "Working at smaller museums, you wear many hats. I like working directly with art and getting people interested in art. At U.Va., I have an opportunity to get back into the museum and academic world, too."
As academic curator, Love's responsibilities include:
Teaching graduate and undergraduate courses in the McIntire Department of Art and the College's new Institute of the Humanities & Global Cultures in conjunction with exhibitions and leading seminars that produce new knowledge about objects in the museum's collection;
Working directly with members of the University faculty to include the museum's temporary exhibitions and permanent collections in their classroom activities;
Organizing exhibitions for the museum with direct connection to and in collaboration with research interests of faculty and students in diverse departments;
Managing a new, for-credit student internship initiative in partnership with the Global Development Studies Program and the University's Kluge-Ruhe Aboriginal Art Collection, in which students will work at either the museum or the Kluge-Ruhe Collection;
Coordinating faculty- and student-curated exhibitions and research projects; and
Overseeing the museum's education department and its various outreach programs
Love's efforts have built on work spearheaded by Matthew Affron, professor of art history in the College and curator of modern art, who served as part-time academic curator beginning in 2009. He fostered expansion of academic programming and increased threefold the number of students using the museum as a classroom. The number of departments using the museum to enrich their curriculum has risen to 17 and includes drama, religious studies, French, English and anthropology as well as art history, studio art, architecture, education and medicine. Last year 20 percent of the College's departments had a museum component in their curriculum and more than 1,200 of U.Va.'s undergraduates, or 8.4 percent, used the museum for some of their academic work.