Monday, September 25, 2023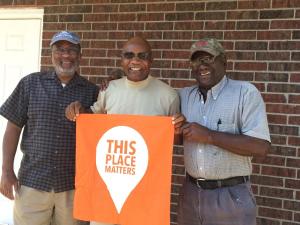 PANEL WITH DR. ASHLEY ADAMS, DENISE KADARA, DR. TIMOTHY E. NELSON, AND LA BARBARA JAMES WIGFALL; MODERATED BY DR. ANDREA ROBERTS
Part of the 2023 Sara Shallenberger Brown Cultural Landscapes and Sites Symposium
FOLLOWED BY A RECEPTION
This event is in-person only; a recording will be made available on UVA School of Architecture's YouTube Channel.
The notion of the Western frontier prompts recognition of the genocide and forced removal policies informed by notions of Manifest Destiny that dismembered Indigenous and Native communities. Native and Black landscapes of the West have historically lost population, been destroyed by development, and industry has extracted water and oil. Post-Emancipation, Black Western place makers sought a promised land in places like Nicodemus, Kansas, Blackdom, New Mexico, and Allensworth, California. During this event, descendant activists, planners, preservationists, and scholars from these towns will share their experiences preserving and planning in these emancipatory landscapes or Western Afrotopias.
This symposium is a generative, re-memory project in which attendees share counter-narratives of Black Western placemaking, contemporary grassroots preservation efforts, and current movements to right the wrongs that led to the decline of Western Afrotopias. To shape practice and intellectual inquiry, the event showcases descendant leaders, practitioners, and scholars who historically frame Black settlement in the West as a contemporary reparative struggle and as a seat of speculative Black futures. The audience is invited to engage frontierism as being about expansive, new ways of increasing the capacity of Black folks to speak and plan in boundaryless ways about their pasts, presents, and futures.
A companion exhibition, Afrotopias of the West is on view in the Campbell Hall Corner Gallery, September 18–October 27.