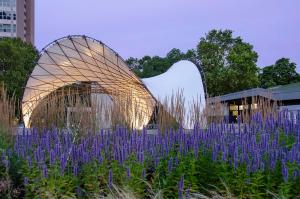 Hanaa Dahy, Associate Prof. Dr. for Sustainable Design within Innovation & Technology, Aalborg University, Copenhagen, and Director, BioMat + BioMat@Copenhagen.
Michael Owen Jones Lecture and Reception
5pm, Campbell Hall 153
'Materials as a Design Tool' is the design philosophy of architect and engineer Hanaa Dahy, whose practice is based on giving alternative renewable resources a second chance and a vital role in the design process. Focused on locally available and sustainable materials, Hanaa Dahy and her BioMat research teams in Stuttgart and Copenhagen take an innovative and carbon-reducing approach to construction by using natural, fiber-based biocomposites and seasonal plant-based materials like straw, flax, and hemp. BioMat's wide-ranging work includes shell constructions, bridges, furniture, building components, multi-functional integrated sandwich panels, and adaptive façade systems that integrate robotic fabrication, additive manufacturing, and automation technologies.