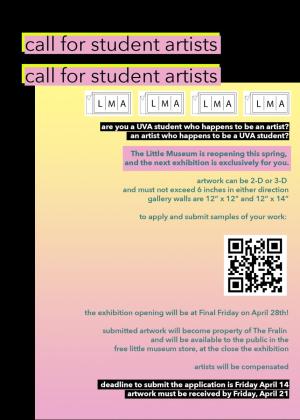 Are you a UVA student who happens to be an artist?
An artist who happens to be a UVA student?
Apply and submit samples of your work
The Little Museum is reopening this spring, and the next exhibition is exclusively for you. artwork can be 2-D or 3-D and must not exceed 6 inches in either direction gallery walls are 12" x 12" and 12" x 14".
The exhibition opening will be at Final Friday on April 28th! Submitted artwork will become property of The Fralin and will be available to the public in the free little museum store, at the close the exhibition.
Artists will be compensated!
Deadline to submit the application is Friday April 14
Artwork must be received by Friday, April 21
Launched in the summer of 2021, The Fralin's Little Museum of Art was inspired by a desire to engage with the community during the museum's closure and provide an opportunity to highlight the artwork of local and student artists. This miniature museum consists of six galleries, each measuring approximately one foot square, and showcases tiny works on a rotating basis.
At the close of each exhibition, the artwork is moved to the Free Little Museum Store. In the spirit of the Free Little Libraries, the public can take a piece or swap with one of their own, sharing art throughout the community. The Little Museum of Art and the Little Museum Store are located outside on the Cornell Plaza and are on view 24 hours a day.