Tuesday, September 27, 2022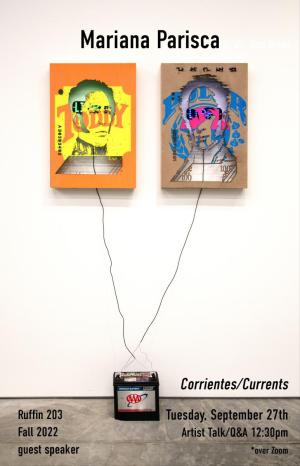 On Tuesday 9/27 at 12:30pm, interdisciplinary artist Mariana Parisca will give a talk about her work in Anna Hogg's Intro to Studio Art class.
Mariana Parisca is an interdisciplinary visual artist and educator from the USA and Venezuela. They create sculptures, installations, videos, performances, and printed matter that question and redefine the social abstractions that shape value, resource distribution, and consumption in the Americas.
Parisca received an MFA in Sculpture + Extended Media department at Virginia Commonwealth University and a BFA from Washington University in St. Louis. Parisca's work has shown at CUE Art Foundation, New York, NY, documenta fifteen, Kassel, Germany, Mas Allá, Bogota, Colombia, Rudimento in Quito, Ecuador, NARS Foundation in New York City, NY, the New Wight Biennial in Los Angeles, CA, the Virginia Museum of History and Culture, Anderson Gallery, and Cherry Gallery in Richmond, VA, the Virginia MOCA in Virginia Beach, VA, and New Works Gallery in Chicago, IL among others. They have received various awards including an Emergency Grant from the Foundation for Contemporary Arts, the Eliot Scholarship, and the Paul F. Miller Scholarship. They have been artist in residence at Atlantic Center for the Arts, Nave Proyecto, Vermont Studio Center, Visual Arts Center in Richmond and Studio Two Three. They currently teach sculpture at George Mason University.