Wednesday, February 15, 2023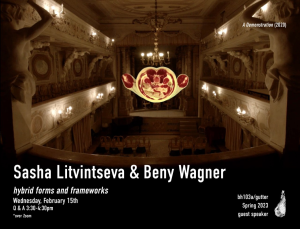 On Wednesday, February 15th, Intermediate and Advanced Cinematography will be welcoming filmmakers and collaborators Sasha Litvintseva and Beny Wagner for a Q&A on zoom discussing their most recent films, Constant (2022) and A Demonstration (2020). We will watch their films in class on the Monday before their talk. Come prepared with questions! See event poster and bio below.
Sasha Litvintseva and Beny Wagner are artists, filmmakers and writers. They've been working collaboratively in moving image, installation, text, and lectures since 2018. Focusing on moving image as a tool for the active production of new worlds, their practice has been driven by questions about the thresholds between the body and its surroundings, knowledge regimes and power, modes of organizing and perceiving the natural world. Their collaborative work has been presented globally, including at the Berlinale, Rotterdam, CPH:DOX, Courtisane, EXiS Seoul film festivals, CAC Vilnius, Los Angeles Filmforum, Museum of the Moving Image NY, Transmediale, Sonic Acts, Berlin Atonal and Impakt Festivals, the Moscow Young Art and Wroclaw Media Art biennales, the Baltic Triennial and was featured on the Criterion Channel. Their films have won numerous awards including the Silvestre Best Short Film at IndieLisboa and Best Short Documentary at Guanajuato Film Festival. They are the authors of All Thoughts Fly: Monster, Taxonomy, Film (Sonic Acts Press: 2021).
Passcode: gutter