6:30 pm | Visible Records Studio West 3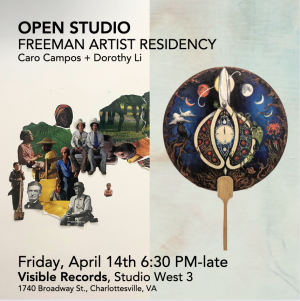 Current Freeman Artist Residents Caro Campos and Dorothy Li will have an open studio from 6.30pm until late this Friday April 14th. The FAR studio is located at the west wing of Visible Records Gallery in Charlottesville, please join then in celebrating their work to date, in the run-up to their two-person exhibition this coming September.
The Freeman Artist Residency (FAR) is a one-year artist residency program based in Charlottesville, Virginia, providing studio space, material stipend, end-of-residency exhibition and mentorship to artists at a formative stage of their careers. Founded in September 2020 by Welsh visual artist & UVa Assistant Professor of Studio Art Neal Rock, FAR is named after Welsh painter and educator Michael Freeman, who mentored Rock during his formative years in South Wales. Freeman's teaching, funded by WEA Cymru (Workers' Education Association Wales), impacted communities whose access to the visual arts were restricted by the socio-economic conditions of their time. FAR honors Freeman's life and work by offering the gift of time & space to artists at an early stage of their careers. FAR's mission is aligned with the founding values of WEA Cymru – facilitating cultural access and equity – by giving priority to BIPoC, LGBTQ+ & first-generation college graduate artists.