5 - 7 pm | New City Arts Initiative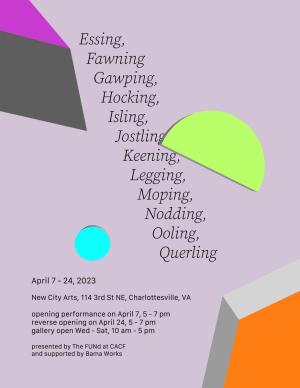 Essing, Fawning, Gawping, Hocking, Isling, Jostling, Keening, Legging, Moping, Nodding, Ooling, Putzing, Querling proposes a range of queer furniture and toys as grounds for participatory performance and play. These objects seek to serve as set pieces for kinds of queer sociality — the ludic, the leisurely, the cooperative, the curious, and the unintelligible — and as, more broadly, incitements to stranger, mushier relations, interactions, and fantasies that might emerge from the encounter between participant and place.
Bio:
Conrad Cheung is an artist and educator whose practice couples transdisciplinary, collaborative, and ethnographic processes with wide-ranging artistic methods and media to address various urgencies, including post-truth and related crises of knowledge, the empathic and affective demands of democracy, crises of public space and commons, and sustainability in the face of multispecies extinction. Cheung's work spans installation, performance, VR, cyberintervention, and more, and they collaborate regularly with practitioners across creative and academic disciplines. They are currently an Assistant Professor of Art at the University of Virginia.