Monday, February 13, 2023
6 - 8 pm | Multicultural Student Center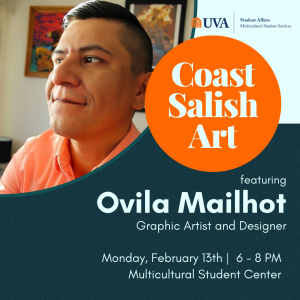 Monday, February 13th, Graphic Artist and Designer Ovila Mailhot will be joining us for an interactive Coast Salish Art session in the Multicultural Student Center. In this session, Ovila will discuss his process and how he approaches creating as a Coast Salish graphic artist, as well as how he builds story through design. He will walk participants through the creation of their own graphic and show how he embeds various art forms into his work.
Ovila Mailhot is originally from the Seabird Island reservation in British Columbia, whose roots are both of Stó꞉lō & Nlaka'pamux Nation. From the day he became a graphic designer, Ovila has been extremely successful. His art has been picked up for apparel design, book covers, logos, and merchandise. Ovila focuses on the Triagon, Crescent and circle symbols, and keeps his designs both contemporary and traditional.
We hope you can join us.