Friday, November 11, 2022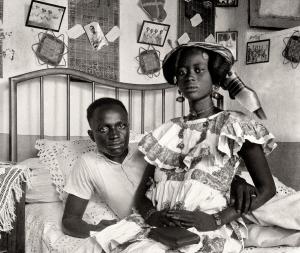 Since the 1990s, exhibitions of African photographers such as Seydou Keïta have raised questions about the relationship of ownership to authorship, visibility to privacy. Concerns about the ethics of looking and collecting have grown more urgent with recent debates about the restitution of African cultural heritage.
This online symposium draws together scholars, artists, and curators who explore the ethics of working with photographs and methods to decolonize the medium, and its histories.
Self Portrait of Macky Kane and Fatou Thioune, Saint Louis (Senegal), 1941, scan from gelatin negative, 9x13cm. Courtesy of Linguere Fatou Fall and Revue Noire.