Upcoming Events
Friday, February 22nd

to

Friday, March 29th
La Pocha Nostra Exhibition
"The New Barbarians: photo performance in defiance of 'documentation'" will be on view in the Ruffin Gallery from February 22 to March 29th, featuring photographs by RJ Muna in collaboration with this year's Distinguished Artists-in-Residence Guillermo Gómez-Peña and La Pocha Nostra. The exhibition will open with a photo-karaoke performance by La Pocha Nostra on February 22nd from 5-7 PM. 
"These 'photo-karaoke performances' seek to dissolve the borders existing between audience, performer and photographer. One unifying thread is a shared desire to portray a radical bohemian spirit still alive in San Francisco and demonstrate ways an experimental performance troupe can intersect with the Bay Area arts community." -Emma Tramposch, Managing Director, La Pocha Nostra.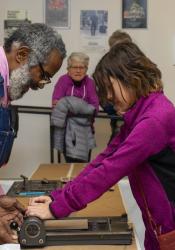 Friday, March 8th

to

Friday, March 22nd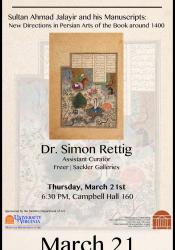 Thursday, March 21st

, 6:30 PM
UVA McIntire Lecture Series
Dr Simon Rettig, Assistant Curator, Freer | Sackler Galleries
Sultan Ahmad Jalayir and his Manuscripts: New Directions in Persian Arts of the Book around 1400
Monday, March 25th

to

Friday, March 29th
Visiting Artist Lecture: Kendall Buster
The Studio Art Department is pleased to have sculptor Kendall Buster as a guest speaker on March 26th, 2019 at 6:00 PM in Campbell Hall 160! Kendall Buster earned a BFA degree from the Corcoran College of Art and Design in Washington DC and an MFA in Sculpture from Yale University, as well as participated in the Whitney Museum's Independent Study Studio Program in New York City. Her work has been exhibited in numerous venues nationally and internationally including the Hirshhorn Museum and the Kreeger Museum in Washington, DC, Artist's Space and the American Academy of Arts and Letters in New York City, the Haggerty Museum in Milwaukee, the Kemper Museum in Kansas City, the Boise Art Museum in Boise, Idaho, Suyama Space in Seattle, Washington, the Bahnhof Westend in Berlin, and the KZNSA Gallery in Durban, South Africa. For sculptor Kendall Buster, there is no distinction between art and science. Trained as a microbiologist, she explores the forms and landscapes seen in a microscope lens through her giant sculptures. Kendall Buster was the recipient of a 2005 American Academy of Arts and Letters Award in the Arts. She currently lives and works in Richmond, Virginia and is a Professor in the Department of Sculpture and Extended Media at Virginia Commonwealth University. Check out an interview that Buster did with NPR on her large-scale sculptures here!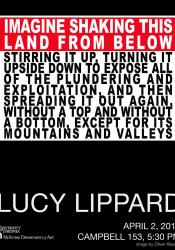 Tuesday, April 2nd

, 5:30 PM
Lucy Lippard Residency: Artist Lecture
Campbell Hall, Room 153
Lucy Lippard is known for her early support of feminist art, as well as her writings on conceptual art and the relationship between art and politics. She has founded numerous organizations including Printed Matter, Inc., the Heresies Collective, Political Art Documentation/Distribution (PAD/D), and Artists Call Against U.S. Intervention in Central America. She has curated over 50 exhibitions, done performances, comics, guerrilla theater, and edited several independent publications. In 2012, an exhibition on her seminal book Six Years: The Dematerialization of the Art Object from 1966 to 1972 was on view at the Brooklyn Museum. Most recently, Lippard has been writing on art's relation to the environment and place.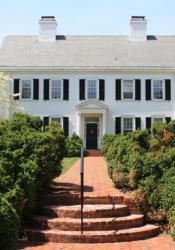 Thursday, April 4th

to

Saturday, April 6th
Decolonizing in the Digital Humanities Symposium
Harrison Small Auditorium
Thursday, April 11th

, 5:30 PM
Archaeological Institute of America Kress Lecture
Filomena Limão, Universidade Nova de Lisboa
"In search of Roman Lisbon (Olisipo): What lies beneath our feet?"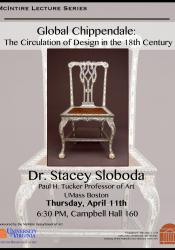 Thursday, April 11th

, 6:30 PM
UVA McIntire Lecture Series
Stacey Sloboda, UMass-Boston
Campbell Hall, Room 160